DD Electronics
27, rue Gutenberg
75015 PARIS - FRANCE
tel : +331 45 75 16 77
fax : +331 45 75 16 28



Pre-programmed mexican satellite receiver
30 EUR delivery to all parts of EUROPE, 48/78 H delay. You could be watching mexican TV next week! The annual subscription card is a separate charge


269 €


In Stock !
48-72 H delay


| | |
| --- | --- |
| EIRP (dBW) | Dish size (cm) |
| 54 | 45 |
| 53 | 50 |
| 52 | 50 |
| 51 | 55 |
| 50 | 60 |
| 49 | 60 |
| 48 | 60 |
| 47 | 75 |
| 46 | 80 |
| 45 | 90 |
| 44 | 90 |






A package of six mexican channels is now available throughout Europe
:
Clásico TV, DE PELÍCULA , CANAL DE LAS ESTRELLAS, RITMO SON LATINO, TELEHIT, TL NOVELAS,
The six channels of the Mexican package are broadcast from Intelsat 905 (24.5°W) - position with the following parameters: freq: 11626.00 H -13500 7/8 and all you need is a minidish! ( or even without dish, read about the Flatmagic )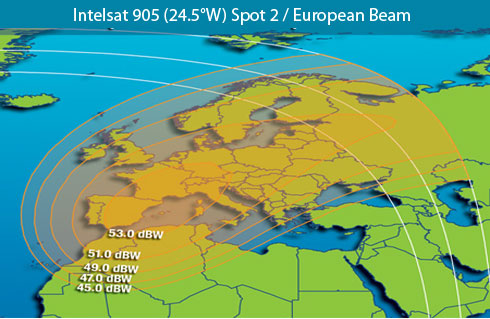 Example size of the dish for London, Paris or Geneva is 45-50 cm. Signal is receivable in the following parts of Europe:
UK, France, Spain, Portugal, Italy, Germany, Iceland, Sweden, Norway, Denmark, Switzerland, Finland, Slovenia, Slovakia, Czech Republic, Poland, Romania, Bulgaria, Moldova, Belorussia, Ukraine, Russia, Greece, Albania, Macedonia, Serbia, Turkey, Montenegro, Croatia, Hungary, Morocco, Malta, Algeria, Tunisia, Ireland, Austria, Latvia, Lithuania, Estonia and few others.


Step 1 Check if you are located in the coverage area of the channels


Step 2 check the size of the dish you will need from the table enclosed.


Step 3 Buy the equipment and the subscription card, We do install with our own team of expert engineers (in the large Paris area only) we can also assure installations in certain areas in the UK) For those of you residing far from Paris or in Europe we send equipment via DHL or Chronopost.You can also write to us:

CONTACT US HERE.