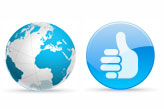 We can bring to your home TV channels from anywhere in the world.



●
If
somehow the channels you want to receive are not listed here e-mail us or call us in Paris for info and a quote, or come to our shop in Central Paris.



●
DIY kits available.
Come with detailed instructions in both english and french.