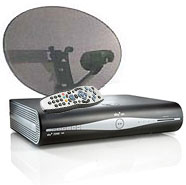 The Sky minidish is as

small

as the digibox itself ( 43 cm )
---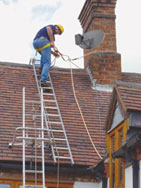 We only use the best materials and fixings, fitted by our team of expert satellite system installers.

---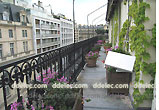 We specialize in hidden satellite dishes. The Flatmagic is a discrete solution to receive Sky Digital in listed buildings. MORE
---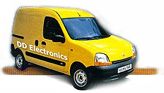 Sky Digital in Paris, France and Europe.
340 english language satellite TV channels ! Why miss out your favorite shows and programs?

●
The Sky satellite digibox is connected to your existing TV set. The minidish can be mounted on the roof, balcony or a side wall. It should be pointed at the satellite with no obstacles in front of it, no trees or close buildings. Pointing a dish is a precise job, so we recommend you call a professional unless you know exactly what you are doing.

●
The dish can be as small as 45 cm in diameter (18 inches) depending on the channels you want to receive. Attention: two lines from the dish are necessary for Sky Plus option to use the full recording capability of a decoder!



● Many channels come for free , but some channels are pay services. The satellite companies scramble the signal, rendering it unwatchable unless you have a subscription.
see the list of the english language channels

here.
Find out more about prices, current offers, channel lists etc. click here.
● Channels are available in almost any language . Dish size may vary depending on the satellite and the language requested. All the english & US channels are receivable on a 45 cm dish.
● The Sky HD and the Sky Plus come with integrated recorder all-in-one units: You can watch one channel while recording another.
Both can be used on a single line from the dish, but full recording capabilities are only possible with a second line.



Attention: two lines from the dish are necessary to use the full recording capability of a Sky Plus or the Sky HD decoder!