Bulsatcom HDZ 210 Bulcrypt, HDMI 1080i, 50 Hz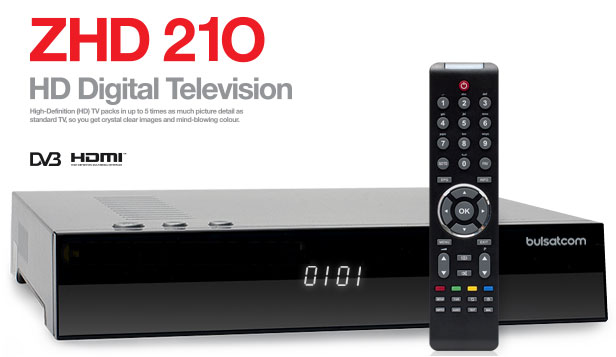 made in the EU
469€

Bulsatcom HD decoder and, 12 months full subscription
BULGARIAN digital satellite TV channels
are receivable throughout Europe and the Middle East. You can get them on a small 60 cm / 80cm dish as well as multiple bulgarian radio stations.
Bulsacom offers Europe's two most powerful titles - Premier League and Champions League!
Nova Sport and Diema Sport HD 1&2, F+, Btv Action and other channels will show the English Premier League 2015/16 season
This package offers fantastic coverage of English Premier League football, showing around 200 premier league games per season Including Saturday 3pm Games.
This is an Official Paired HD Receiver & Card (ZHD 210)
Included in package:
12 Months subscription
· Perfect picture and crystal clear sound
· Great variety of channels and programs to meet your mood
· Music with CD quality of sound .
- English menu on receiver
Included package Diema Extra (Diema sport and Trace sport)
Formula 1 Live - Film Plus HD and Film Plus
200 live EPL matches
- All the important derbies
Live Spanish and Italian games
UEFA Champions League
English FA Cup
England National team Games
England Under 21 National team Games
English FA Community Shield
German DFB Pokal Cup
Speedway Grand Prix
KHL Continental Ice Hockey League
During The EPL Season 2012/13 you get the sollowing games:
Saturday: 12:45 Game One 15:00 Game 17:30 Game
Sunday: 13:00 Game 16:00 Game
You also get The midweek games on Monday, Tuesday and Wednesday
All the above makes this by far the most affordable and attractive package for showing Live EPL, Movies and Music
Bulsatcom broadcast from Hellas Sat 2 at 39° East
Also Thousands of HD recent movies in english, Kids programs / Disney, Nick,Music, Documetaries, Big Boxing events included.