DD Electronics
27, rue Gutenberg
75015 PARIS - FRANCE
tel : +33 (0)1 45 75 16 77
fax : +33 (0)1 45 75 16 28
Reg. number 400 259 511 00022

Decoder for the free-to-air english channels via satellite. A dish is required.






199 € SD version


( SD - is for Standard Definition, scart output,


delivery in France in 48 H
---
Décodeur HD decoder for the english channels in France. requires a satellite dish. To connect to your HD or SD TV set. HDMI 1080i/p output. Single tuner.


349 € HD single tuner
delivery in France in 48 H
---



449 € version HD

with HDD of 320 Gb and a twin tuner
delivery in France in 48 H
---

add a Flatmagic of 47 cm
( Northern France only )
196 €
---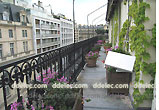 Did you know you can also get english TV in France without a dish? The Flatmagic is a discrete solution to receive UK TV in listed buildings. MORE

FREE ENGLISH TV IN FRANCE

DD Electronics offers a specific decoder for

the reception of

English TV channels in France without subscription. It gives access to the UK public television (BBC1 & 2, ITV 1, 2, 3 & 4, Channel 4 and Five, seven channels for children – CBBC, Cbeebies...in total 129 free-to-air TV channels and multiple radio stations. here is the complete list of English free channels in France.

The dish size may vary depending on your location. Check the size of the dish for your region on the map above. The signal can be received in other countries as well, contact us for information on the dish size.

From time to time the decoder will auto-update . Any new channel will automatically appear on the list. No need to re-program frequencies manually for long weekends. In addition there is also an EPG - Electronic Program Guide for up to seven days in advance.




Size of the dish required to receive the UK channels in France
satellite ASTRA 2D, 28.2° East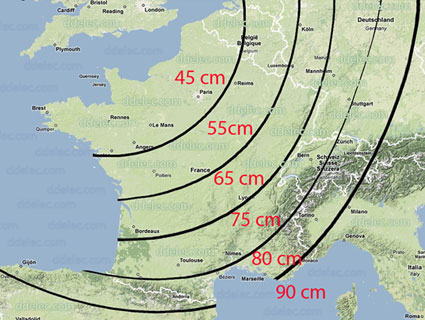 The Free-to-air HD Version with PVR ( personal video recorder ) comes with a twin tuner 320GB hard drive receiver allowing for approx 160 hours of standard-definition recordings, or 80 hours in high-definition.
You will be able to record one channel whilst watching/recording another, or even record two channels whilst playing back a previously recorded programme.



All decoders are in stock, immediate delivery anywhere in France ( in 48 H ) and 3to4 days to Belgium and Switzerland, 5 days for the rest of Europe.